Two-family-house - Purchase - Waiblingen
Renoviertes Zweifamilienhaus/ Mehrgenerationenhaus
Number of separate toilets
3
Beschreibung:
Das Zweifamilienhaus hat 3 Wohnungen, mit insgesamt ca. 222 m² Wohnfläche und ca. 50 m² Nutzfläche. Das Gebäude befindet sich auf einem 240 m² großen Grundstück mit Gartenanteil und 3 PKW-Stellpätzen im Freien.

Das dreigeschossige Gebäude mit großem Gewölbekeller wurde in der Gründerzeit im Jahre 1900 erbaut. Es handelt sich um eine Fachwerk-Holzständerbauweise mit massivem Kellergeschoss. Zwei Wohnungen im Haus sind renoviert und technisch funktional. Das Haus ist mit einer Vollwärmeschutzverkleidung ausgestattet.
Lagebeschreibung:
Das Haus befindet sich in Waiblingen/Stadt. Alle Einrichtungen des täglichen Bedarfs, Bushaltestelle und das Stadtzentrum (Alter Postplatz), sind bequem zu Fuß erreichbar. Kindergärten, Schulen und das Naherholungsgebiet "Talaue" mit seinen verschiedenen Sport und Freizeiteinrichtungen sind in unmittelbarer Nähe. Die Zufahrt zur Bundesstraße B14/B29 Stuttgart-Aalen sowie die S-Bahn-Station in gleicher Richtung, runden die gute Infrastruktur ab.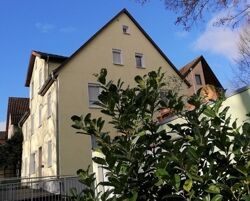 Energieausweis:
0
25
50
75
100
125
150
175
200
225
Baujahr (Haus):

1900

Final consumption of energy:

115,2 kWh/(m²*a)

Energy Performance Certificate (for Buildings):

according to consumption

Energy Certificate:

D

Energy pass valid until:

29.01.2030

Main fuel type:

Gas

Heating:

Central heating

Baujahr (Haus) Energieausweis:

2004
Ausstattungsbeschreibung:
EG ca. 79,41 m² Wohnfläche
mit Eingang/Flur, 3 Zimmer, Küche, Bad/WC sowie Treppenhaus und Holztreppe.

OG ca. 75,97 m² Wohnfläche
mit Treppenhaus mit Diele, 3 Zimmer, Küche, Gäste-WC, Tageslichtbad mit Wanne, Dusche, Waschbecken und WC an Wand und Boden gefliest.

DG ca. 67 m² Wohnfläche
mit 3 Zimmer, Küche (EBK), Tageslichtbad mit Dusche, WC, Waschbecken. An Wand und Boden gefliest. Großer Flur mit Einschubtreppe als Zugang auf den Dachboden. Hier ist die Gas-Zentralheizung installiert.

- Fassadendämmung
- Kunststoffrahmenfenster mit ISO-Verglasung und
KU-Rollläden
- Laminat in den Wohnräumen
- Fliesen in Bad, Küche und WC
- 2 x TL-Bad mit Wanne, Dusche, Waschbecken, WC
- 2 x TL-Gäste-WC
- Küchen mit E-Geräten
- Gas-Zentralheizung
- Unitymedia/Kabel, SAT-Anlage
- Keller mit Nebenraum,
- Gewölbekeller
- kleiner Garten
- 3 x PKW-Stellplatz direkt vor dem Haus
- Satteldach (letzte Bodendecke ist gedämmt)
- Dacheindeckung mit Tonziegel


Energiewerte:

Energieausweis
VA, 115,2 kWh/(m² * a), Gas-ZH, Bj. 2004, D, Gebäude 1900


Die Immobilie eignet sich als Mehrgenerationenhaus
Sonstige Angaben:
Die Immobilie wird von den Eigentümern bewohnt und zum 30. Juni frei.

Alle im Exposé enthaltenen Angaben beruhen auf Aussagen des/der Eigentümers/Eigentümerin. Unsere Angebote sind freibleibend und in diesem Falle nur für Sie bestimmt. Eine Weitergabe an Dritte bedarf unserer Zustimmung Der Empfänger kann sich nur darauf berufen, von einem Angebot bereits vorher Kenntnis gehabt zu haben, wenn er dies unverzüglich mitteilt. Wenn der Empfänger unseres Angebotes unsere Dienstleistungen in Anspruch nimmt, ist er Bernd Mergenthaler gegenüber provisionspflichtig. Die Käuferprovision beträgt 4,76% vom Verkaufspreis inklusive 19% gesetzlicher MwSt. Irrtümer vorbehalten. Jeder RE/MAX Lizenz- und Franchisenehmer ist ein rechtlich eigenständiges Unternehmen. Die Objektdaten wurden mit der erforderlichen Sorgfalt eingeholt und beruhen auf Angaben des Auftraggebers, für die wir keine Gewähr übernehmen.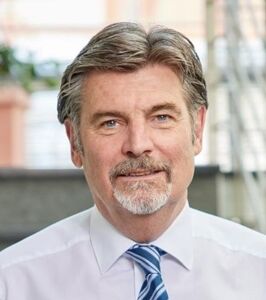 Gunther Weber
Mergenthaler Immobilien AG
+49 7151 96658-0
Sie wollen mehr erfahren?
Wenn Sie uns eine Nachricht über das Kontaktformular senden, melden wir uns schnellstmöglich bei Ihnen: